Roohé SL, Helsen S, Paridaens D. Medial lacrimal sac excision versus conventional H-shaped lacrimal sac opening in external dacryocystorhinostomy: a comparative cohort study. Orbit. 2023 Jan 26:1-7. doi: 10.1080/01676830.2023.2168017. Epub ahead of print. PMID: 36700372.
For patients with a tearing eye due to an acquired nasolacrimal duct stenosis, the external dacryocystorhinostomy (Ex-DCR) is a reliable but surgically challenging procedure. Dion Paridaens and his team in the Rotterdam Eye Hospital developed a surgical modification of the classic external DCR technique and recently reported on the outcome of patients treated with this modified technique and that of a historical cohort treated with the conventional technique.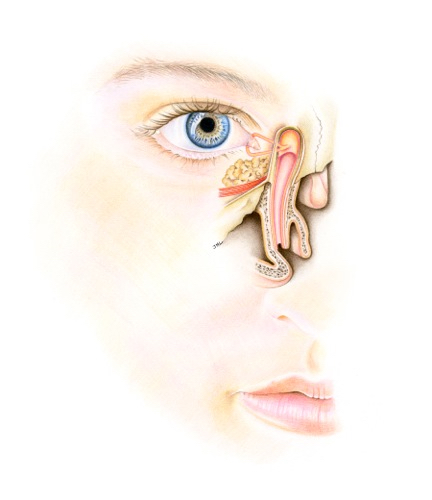 Methods: This comparative cohort study included adult patients undergoing Ex-DCR for primary acquired NLDO by or under supervision of dr Dion Paridaens, PhD MD. Group 1 (conventional Ex-DCR including H-shaped incision, anastomosis of the anterior mucosal flap to nasal mucosal flap and resection of the posterior sac flap) was compared with Group 2 (modified Ex-DCR including excision of the medial lacrimal sac and anastomosis of remaining anterior sac flap to nasal mucosal flap). Outcome measures included the success rate (defined as complete symptom relief or patent irrigation after three months), reoperation rate, redo-free survival within five years, and occurrence of postoperative bleeding and postoperative infection.
Results: 138 patients were included. The success rates were 94.7% (54/57 cases) for Group 1 and 96.3% (78/81) for Group 2 (p-value = 0.658). The redo-rate was 5.3% (3/75) in Group 1 and 2.5% (2/81) in Group 2 (p = 0.331). Two-year redo-free survival probability estimates were 89.8% for Group 1 and 96.3% for Group 2, respectively. No complications occurred in Group 2, whereas in Group 1, one patient (1.8%) suffered from postoperative bleeding and one (1.8%) from postoperative infection.
Conclusions: our study showed that the modified Ex-DCR technique is equally efficacious compared with the conventional Ex-DCR technique in adult patients with NLDO.
Advantages of the modified technique include: 1. need for fewer instruments 2. less risk of injury to common canaliculus, 3. faster procedure