On Thursday September 15th Dion Paridaens gave an invited lecture on the surgical management of thyroid orbitopathy during the E.S.O.P.R.S. Pre-Meeting Course (as part of the 2016 Annual Meeting of the Society of Ophthalmic Plastic & Reconstructive Surgery).
The event attracted over 500 participants and was very well organized by the team of Dr Ntountas and Dr Charonis, the local organizers.
His tutor and colleague Willem van den Bosch held the prestigious Mustarde Lecture during the Annual Meeting.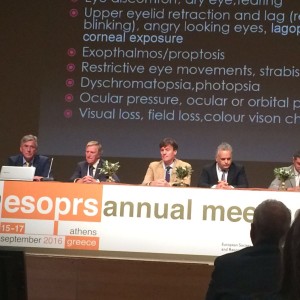 Panel of the Thyroid Orbitopathy session during the Pre-Meeting Course, from left to right: Maarten Mourits, Mike Potts, Dion Paridaens, Peerooz Saeed, Ioannis Mavrikakis